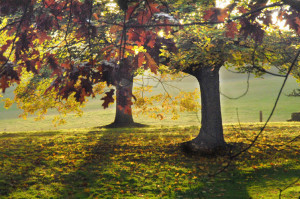 Book a Taxi Tour Online or phone +44 (0)203 00 44 953
London's Autumn Glory
Autumn – when England's green and pleasant land turns brown! But have you noticed that our autumns are becoming more colourful in recent years?  "As our climate changes", suggests Nigel Taylor, The Curator of The Royal Botanic Gardens at Kew, "the hotter sunnier summers followed by sudden changes in autumn kick off the process of autumn colour development in a much stronger way."
London's parks and gardens are the place to be for autumn colours. Visit the Kyoto Garden in Holland Park, the gardens at Eltham Palace, and the Pergola and Hill Garden in Hampstead Heath.  Glorious displays of colours are on view at Kew Gardens where there will be guided walks and tours as part of Autumn at Kew.  There are some seasonal walks in the Royal Parks like this free Autumn Bird Walk in Richmond Park on 15 October.
Drive out to the countryside
Or better yet, treat yourself to a day of relaxation and let us escort you to one of the many beautiful and historical sites on a day trip out of London.
You could choose our Stonehenge Tour or our Windsor Tour.   Or how about the ever-charming Scotney Castle on a Customised Countryside Tour.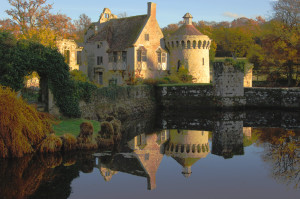 The National Trust property of Scotney Castle  is not one but two houses. At the top of the hill is the new house, designed by Anthony Salvin in Elizabethan style and built in 1837 for Edward Hussey III, who took the 'Picturesque' style as his inspiration. At the bottom of the valley are the romantic ruins of a medieval castle and moat.
The medieval castle and moat are the focal point of the celebrated gardens featuring spectacular displays of autumnal colour.
The estate is open all year, offering a variety of walks through the beautiful gardens, parkland, woodland and farmland.  After a sedate stroll around the gardens or a more brisk walk in the fields and woodland of the surrounding estate, stop for lunch or cake in their well-stocked tea room.  Sit outside in the sun overlooking the surrounding countryside or snug inside if the weather turns chill.
To Book your London Taxi Tour:
We are also a full-service London Black Taxi company:

+44 (0)203 00 44 953

Let us know if you need transportation to and from the airport or anywhere else you need to go in and around London.
Please read our Terms and Conditions before booking.
Need Advice?
Which tour to take? Which tour company to use? Our Why Book With Us page might help you decide