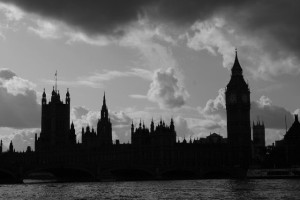 Experience Haunted London!
Tour the streets of Haunted London in the comfort of an iconic London Taxi.
London,  a city whose name conjures up images of Jack the Ripper and the Tower of London,  is said to be the most haunted city in the world. Legions of phantoms roam the capital and are an essential part of British history,  folklore,   and legend.  Dark alleys echo with phantom foot steps and spooky shadows drift amongst the old houses and pubs.
Londinium was established as a town by the Romans around 43 AD. Since then,  the level of its streets has risen by as much as 28 feet. Every layer of the city is stamped with the memories and experiences of the millions and people who have lived and died here.
It is said that spirits abide in places where great misery or great happiness has occured. Perhaps that is why you are more likely to have a ghostly encounter in London than in any other city in the world.
Journey through the streets of Haunted London with us.
50 Berkeley Square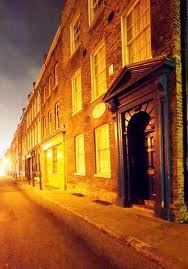 We take you to 50 Berkeley Square in Mayfair to hear the countless tales of hauntings that surround this house.
During the Victorian era,  50 Berkeley Square was believed to be the most 'aunted 'ouse in London. There are many stories that are said to explain the origins of the house's disturbances. One of these stories begins with an eccentric man named Myers. He was due to be married,  but shortly before the wedding,  his fiance left him heartbroken. He became a recluse and moved into a tiny room at the top of the house. There he lived alone with his memories,  prowling the house by candlelight each night.
"A gentleman,  a disbeliever in ghosts,  dared to sleep in number 50 and was found a corpse in the middle of the floor after frantically ringing for help in vain. Rumour suggests other cases of the same kind,  all ending in death,  madness,  or both as a result of sleeping,  or trying to sleep in that room." — This quote is attributed to both Mayfair Magazine 1879 and Notes and Queries circa 1870.
Join us to hear other haunting experiences associated with the house,  including the sounds of moving furniture,  ringing bells,  and cries from behind locked doors.
The Grenadier Pub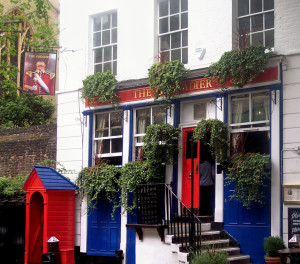 The Grenadier is one of London's most enchanting–and most haunted–pubs. It nestles in Wilton Mews,  a tranquil nook of London with the feel of an English country village.
The Grenadier boasts a military history. The Duke of Wellington's Grenadier Guards used it as their mess. During this time,  a young subaltern (junior officer) was caught cheating at cards and beaten so badly that he died. His violent and untimely death,  in September of an undetermined year,  sparked on onslaught of supernatural activity that persists to this day.
A solemn,  silent spectre has been seen moving slowly across the low-ceilinged rooms. Objects either disappear or else are mysteriously moved overnight. Unseen hands rattle tables and chairs,   and a strange,  icy chill has been known to hang in the air,  sometimes for days on end.
"One landlord's son saw a black shape outside his bedroom one September evening and his mother also saw a figure climbing the stairs who suddenly vanished.  A visitor to the public house saw a figure by the side of the bed in the middle of the night which then disappeared.  Another landlord, Geoffrey Bernard, reported poltergeist activity and shadows during the month of September." — from the Encyclopedia of Ghosts and Spirits by John and Anne Spencer.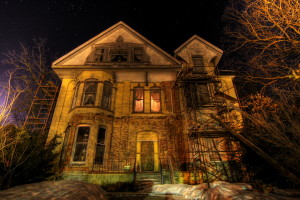 Want to hear more?
If you want to see these haunted places and hear more spine-tingling tales,  join us for a comfortable taxi tour of Haunted London.
We will visit 50 Berkeley Square,  The Grenadier Pub,  and many more spooky places as we drift around Haunted London.
After this chilling tour,  we can drop you off at your hotel or at a Pub for a stiff drink and some good English Fare to steady your nerves.
This tour is not recommended for children under 15.
Prices
£230 for 3 1/2 hours
Up to 5 people per taxi
No additional "per person" charges
Tour Length
Tour time:  3 1/2 hours
Wheel Chair Accessible
All taxis are wheelchair accessible. Please mention at time of booking if you have an electric wheelchair,  as we will ensure that you have a slightly larger taxi.
Pickups
We will pick you up and drop you off at any Central London location,  inclusive in the price.
No need to take public transport across town just to start your tour! We will greet you at your door and see you safely back again.
Flight Layover Tours
If you have a long flight layover and would like a tour of London or the English countryside,  we can pick you up at the airport and deliver you back in time for your departing flight.  An extra fare for the airport pick-up and return will apply,  so please mention this at the time of booking.
To Book your Haunted London Tour:
We are also a full-service London Black Taxi company:

+44 (0)203 00 44 953

Let us know if you need transportation to and from the airport or anywhere else you need to go in and around London.
Please read our Terms and Conditions before booking.
Need Advice?
Which tour to take? Which tour company to use? Our Why Book With Us page might help you decide.
Additional Price Information
No administration fees, credit card fees, or taxes will be added to the Tour Price.
Pick-ups and drop-offs within Central London are included in the Tour Price.
Pick-ups and drop-offs outside of Central London will incur an additional meter fare, which will be subject to our very reasonable administration/booking fee (Please read our lovely Terms and Conditions.). Any questions, just ask!