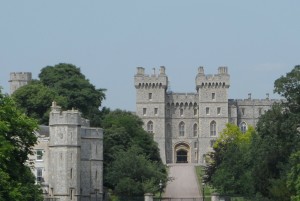 Windsor Castle, The Queen's Favourite!
Visit Windsor,  the Queen's favourite weekend home.  (It's nice to have a choice, don't you think?!)
Windsor Castle has been a Royal home and a fortress for over 900 years.  The Castle remains a working palace today.
What to See
Windsor Castle covers an area of 26 acres and contains the royal palace,  the famous Round Tower,  and a magnificent chapel.
Visitors to Windsor Castle can now climb to the top of the world-famous Round Tower,  one of the nation's iconic landmarks.
St George's Chapel is one of the finest examples of Gothic architecture in England. Within the chapel are the tombs of ten sovereigns,  including Henry VIII and his third wife Jane Seymour,  and Charles I.
The magnificent State Apartments are furnished with some of the finest works of art from the Royal Collection,  including paintings by Rembrandt,  Rubens,  Canaletto and Gainsborough.
Your Windsor Tour
We will collect you directly from your hotel (or any place in central London that you designate).  After a comfortable drive across London and through the scenic Royal Borough of Windsor and Maidenhead,  you will arrive at Windsor Castle.
Your driver is a trained tour guide and will share his knowledge of Windsor and the surrounding countryside.
Upon arrival at Windsor Castle,  your driver will  help organise your tour and provide any other assistance you need.
Tour Price
£550 for a whole day tour (up to 8 hours) for up to 5-6 people.
Pick-up and drop-off at any central London location is included in the tour price.  Other locations may involve an extra fare.
Tour Length
On a full-day tour, you will have up to 8 hours of tour time. Plenty of time for that pub lunch, shopping, photos, or whatever you choose.
Shorter tours are possible, but a minimum of 6 hours is recommended.
Windsor Castle Entrance Fees
To keep your tour cost low,  we have not included Windsor Castle entrance fees in your tour price.
You can find information about ticket prices at The Royal Collection website.
Beyond Windsor
You can spend your entire time at Windsor Castle or you may choose to explore some of the surrounding countryside.  Some possibilities are:
Windsor Town lies at the gates of Windsor Castle.  The oldest part of the town is located immediately opposite Henry VIII Gate (the exit of the Castle). There are several cobbled streets here dating from the 17th century.
Windsor Great Park is a vast area of parkland and forest starting at the gates of Windsor Castle.  Highlights of the Park include the Long Walk,  built in 1688,  which follows a straight path from the Castle to the statue of the Copper Horse on Snow Hill,  and also Savill Garden and Virginia Water.
Runnymede is a famous historical site which witnessed,  in 1215,  King John's sealing of the Magna Carta. Set within the beautiful natural landscape are various memorials by Maufe,  Jellicoe and Lutyens. The memorials commemorate moments in world history and provide the perfect countryside setting in which to remember and reflect.
Eaton College was founded in 1440 by King Henry VI and is one of the oldest schools in the country. Its historic buildings are an integral part of the national heritage.   Visitors can experience the beauty of the College,  including the ancient buildings of School Yard,  the College Chapel,  the Museum of Eaton Life,  and Eaton's Natural History Museum.
More about Windsor Castle
If you would like to read about Windsor Castle before your tour,  you can find more information at Royal.gov.uk,  the official website of the British Monarchy.
Wheel Chair Accessible
For our Windsor Castle tours,  we use our spacious and comfortable Mercedes Vito taxis,  which can easily accommodate electric or manual wheelchairs.  Our driver will happily render any assistance you need.
The entire Windsor Castle visitor route is accessible for wheelchair users.  Accessability to other attractions in the area may vary.  The Windsor Castle web page has more information.
Flight Layover Tours
If you have a long flight layover and would like a tour of London or the English countryside,  we can pick you up at the airport and deliver you back in time for your departing flight.  An extra fare for the airport pick-up and return will apply,  so please mention this at the time of booking.
To Book your Windsor Castle Tour:
We are also a full-service London Black Taxi company:

+44 (0)203 00 44 953

Let us know if you need transportation to and from the airport or anywhere else you need to go in and around London.
Please read our Terms and Conditions before booking.
Need Advice?
Which tour to take? Which tour company to use? Our Why Book With Us page might help you decide.
Additional Price Information
No administration fees, credit card fees, or taxes will be added to the Tour Price.
Pick-ups and drop-offs within Central London are included in the Tour Price.
Pick-ups and drop-offs outside of Central London will incur an additional meter fare, which will be subject to our very reasonable administration/booking fee (Please read our lovely Terms and Conditions.). Any questions, just ask!